We asked Adriana Gentile of Adrianna Homewares to tell us about her work and what inspires her.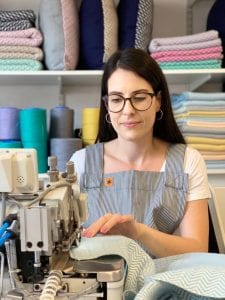 What craft do you practice?
I'm a weaver at heart, but I mainly specialise in designing for woven textiles.
What made you decide to become a maker?
During my Textile Design degree I specialised in weaving. Before going to University I had never used a loom before. I loved the process of designing and creating fabrics from a single yarn that were completely unique to me. Once leaving University, I knew I wanted to carry on weaving. But I needed a loom!
I approached the Princes Trust and enrolled on the enterprise course and eventually was granted a business loan, to buy my first loom, set up my weaving studio and start my maker journey.
Who or what has inspired you?
Studying the Bauhaus, Annie and Josef Albers at University really ignited my love of colour and passion for weaving. Before studying the Bauhaus I struggled with putting colour into my work, or maybe I was afraid. I started with the basics of colour theory and put some of them into practise during my final project, experimented A LOT with colour and weave and now my fear of colour has really become a thing of the past.
Now, one of the things that people really love about my fabrics is the colour! We have a 'hands on' approach with the dyeing process giving us completely unique colours.
What is your Mantra?
Be yourself, be unique, be you.
I apply this to every aspect of my life, from my personal life right through to my designing and weaving. I have a passion for wacky designs, using colour in a bold manner and I appreciate that's not always to everyone's taste. But I'm passionate about making bold, bright, modern coloured fabrics and I wouldn't be true to myself if I produced something else.
What other crafts have you tried? 
I used to hand knit quite a lot when I was younger, though it wasn't really for me. I used to somehow manage to drop stitches everywhere and would always ask my incredibly patient mum to fix the mess I'd made before I could carry on.
At University I tried my hand at machine knitting, though my knitting would always randomly fall off the machine mid way through a sample, I think I knew quite quickly I wasn't a knitter at heart.
I dabbled in hand dyeing during my time at University; once upon a time I used to hand dye all my weaving yarns. That used to take quite a long time, but I never like doing things the easy way, nor do I like picking a colour/yarn combination that someone else uses or has. I've always like to be unique.
What is your favourite piece that you have made?

 
Definitely the piece of textile art I produced for the Great Fosters Hotel when I first started out.
It was a hand woven ombre silk wall hanging. It was made up of 25 different colours, each of which I hand dyed myself. The artwork was 3m long and it was all woven on my studio Loom! Probably the biggest thing I've ever hand produced. The silk yarn was so incredibly fine, I think I was sat at my loom weaving for many hours.
What are you most proud of in your career?

 
Definitely meeting HRH The Prince of Wales at a Campaign for Wool conference. That moment was absolutely surreal. We had just finished making our very first collection of products and we were ready to go to our first trade show in London. About a couple of weeks before we were asked by the Campaign for Wool to take our products up to Dumfries House for the conference to promote The Princes Trust and also show off our wonderfully woolly wares! It just so happened that I was allowed to meet HRH and show him what The Princes Trust had helped me achieve.
What would you do if you weren't a maker?  
I would definitely be teaching some kind of textiles course. I had a great experience of studying textiles from college right through until I studied at University, I would love to give that back to another future student.
When, where and why do you wear your Stitch Society workwear?
I wear it when I'm working in my studio and I absolutely love it, it's so stylish and yet practical. When I put my apron on, I feel like that's my uniform for working. Putting the apron on at the beginning of work and I finish when I take it off. Also when I'm cutting fabric or making some of our products, the little bits off wool gets absolutely everywhere and it quite annoys me when my clothes are covered in it! So wearing my apron also protects my clothes.
Tell us something surprising about you
I have such a massive passion for good food! I love baking and cooking. I suppose there's the satisfaction in making something from scratch, much like in my weaving. My apron hasn't quite made it to the kitchen yet, but maybe it will one day.
Adriana wears The Basic Artisan Workwear apron in blue stripe.
You can see more of Adriana's work on her website. Click HERE for more details.