Welcome to the Pocket Book for the 10th January. Each week in the Pocket Book, we gather together articles from newsletters and books that we read, introduce makers that we adore, seasonal recipes we have tried and projects to do and put it together with a little bit of the Stitch Society for you to read at your leisure.
This Pocket Book focuses on sustainability and how to make small changes that will make a big difference looking at how to change habits, get rewarded for those changes and a project for you to try.
Enjoy…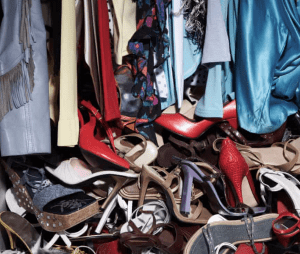 This really short piece in The Guardian looks at the current movement for giving up buying clothes for a period of time. Over the last 18 months, I have had several periods of non buying and although it takes a little getting used to, is amazingly liberating and am now trying to go a full 12 months without buying anything that isn't an absolute necessity, as in worn out. I am, however, allowed to make garments using my obscene stash of beautiful fabrics. I will let you know how I get on and please let me know if you are doing or wanting to try the same thing.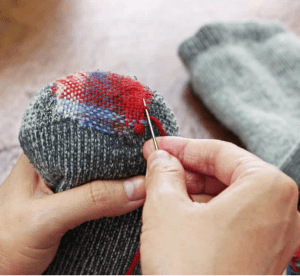 Again from The Guardian, a piece on mending and repairing. A total passion of mine, my son was the only child in his school who had trousers with repaired knees. There is truth in the old adage that "a stitch in time saves nine" and a timely repair can save a garment, throw or pillowcase. My mending pile is always huge but it is always so satisfying when you can put a sweater back into use following a good mend. To pass on this passion, we will be sharing our mends this year and running Mending Workshops this year, more details to follow …
Several retailers are now offering rewards for recycling their products at the end of their life. This piece from The Frugality lists 10 retailers who are now actively rewarding this.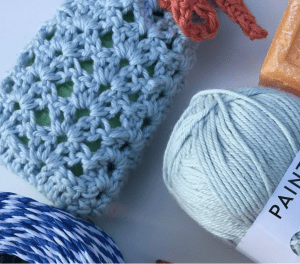 Finally, a lovely project to make. This Soap Holder makes using soap so much more enjoyable – from Selvedge who have some really good projects on their website and also run a range of workshops on textiles, dyeing, printing with excellent tutors. Let us know if you have made one.
We hope you enjoyed the Pocket Book for the 10th January  and we will be back next week with more ideas and snippets. Please feel free to add your comments in the box below as we love getting your feedback and don't forget to let us know if there is anything you would like included next week.