Welcome to the Pocket Book from The Stitch Society for the 13th December, with ideas of things to see and read in the days leading up to Christmas.
For me Christmas is all about the fairylights, fabulously tasteless decorations and family.This article from Elle Decoration on How to Have a Stylish Christmas is all about the quest for the perfect Christmas and made me smile.
For those of you loking for something to do between Christmas and New Year, Sunny Bank Mills is hosting the Artifact exhibition of printmaking techniques.
On the theme of 'Artifact', it reflects and is inspired by the rich heritage of arts, culture and landscape around Yorkshire. Also alongside is work by talented local jewellers and silversmiths. The exhibition runs until the 12th January 2020.
The cult skincare brand Aesop's first book charts the brands history and heredity. The book features stories by the various collaborators and contributors who have worked with Aesop over the years.  The perfect coffee table book for those drawn to beauty, design, architecture and fellow Aesop fanatics.
Aesop are innovative in their view of skincare, with their ethical and sustainable stance in the industry.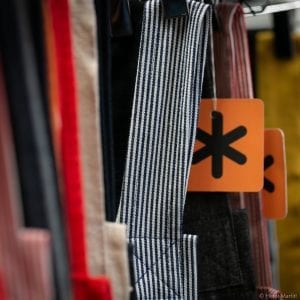 Just a quick reminder that our last date for apron orders will be Monday 16th December to ensure we can get all order out in time.
We hope you enjoyed the Pocket Book for the 13th December, we will be back next week with more snippets.
Please feel free to comment on the posts in the box below as we love getting your feedback and don't forget to let us know if there is anything you would like included next week.