Welcome to the Pocket Book for the 13th November.
Gathered together inspiring things to read, makers whose work we adore, seasonal recipes and creative projects to try.
This week with Lockdown 2 in progress, we have decided to give the next few weeks during lockdown over to promoting other makers and our stockists. Many makers and smaller retailers are really struggling at the moment and our stockists have been amazing over the past months. With Christmas coming up we will be shopping local, supporting local makers and trying our best to support the smaller businesses that make everything just that little bit more special. Most featured will have an online shop and are often able to help with personal shopping for the perfect gift. So, this week will look at gorgeous textiles…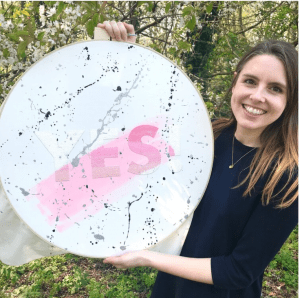 Charlotte Taylor-Frappe is the talent behind Modern Floss embroidery studio specialising in contemporary typographic embroideries that incorporate hand painting and are inspired by real life experiences. Within her work there is often a big nod to feminism and excellent women in general!
Boniface clothing is designed and manufactured by Georgia Boniface from her studio in West Yorkshire UK.
The collection has evolved to prioritise high quality fabrics and structural simplicity, without embellishment except for functional pockets and ties or drawstrings to create elegant contemporary garments.
Signature styles remain constant as staple pieces within the collection, while additional colours, seasonal designs and fabrics are introduced in shorter runs over the year. Limited edition fabrics are sourced from local mills in Yorkshire and Lancashire keeping the collection vibrant and exclusive.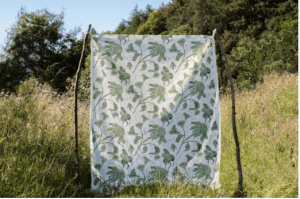 Hannah takes inspiration from the beauty of the North Yorkshire countryside, people, places, history and humour of Yorkshire, she creates art that is fun, playful and a vision to behold. Hannah brings to you her own collection of quirky and inspiring design so that you can adorn your home with individual designs that make you smile.
Hannah's obsession with print and surface pattern design is something that is quite primal and has always had the ability to visualise what the end result will be.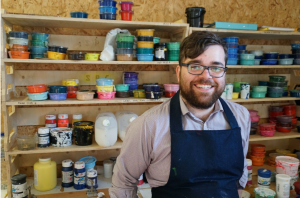 The Owlery is an independent artisan business run by Sheffield born printmaker and textile artist Benjamin Partridge.Benjamin is a product based printmaker and artist who works with Lino and Screen Print media. He creates textiles, ceramics, and paper products and prints using motifs and surface designs with just a touch of whimsy. More recently Benjamin is working on a series of fine art prints.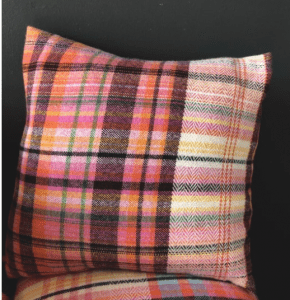 Teresa is a hand weaver and textile designer living in North Cornwall. In the rugged and often windswept landscape, she creates colourful, hand woven cloth transformed into scarves and cushions. In her studio that overlooks the cliffs and sea, she has a constant reminder of the inspiration that surrounds her. Her work is organic with random bursts of shocking pink next to a burnt orange to create interest or a natural oatmeal with a mustard yellow to soften the colours. Because of this her pieces are truly unique.
A quick plus again for the GNCCF which is online next weekend (21-22 November) and The Digital Craft Festival the following weekend (27-29 November) where you can see all kinds of makers, ask questions, buy beautiful things and marvel at the talent! Sarah James from The Digital Craft Festival has a whole range of interviews with makers on their Instagram page – well worth a look through as you can hear the makers talk about their work, ideas and techniques.
We hope you enjoyed our Pocket Book for the 13th November.
We hope you stay safe during lockdown and enjoy browsing through our suggestions. Next week will feature jewellery so please let us know if there is anyone whose work you love and would like to give a mention. As always, don't forget if you find anything interesting to share to next weeks Pocket Book, or just want to say hello, get in touch in the box below or email us direct at hello@thestitchsociety.com.