Welcome to the Pocket Book for the 20th May
This week we look at David Hockney's A Year in Normandie, sharpening knives and in praise of the buttercup.
Enjoy …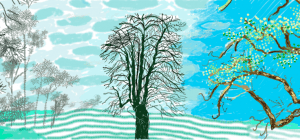 Salts Mill is an amazing place to be based as a business and always a delight to visit the mill and have a wander around the galleries and shops, with maybe a cup of tea and cake. There's even more reason to pop along as there is a new David Hockney exhibition "A Year In Normandy". At 90.75 metres long, this is David Hockney's biggest ever picture: a vibrant, joyful frieze recording the changing seasons in and around the artist's French garden. This is the first time this vast work has been seen in the UK and you can see it in the roof space on the 4th floor until the 18th September, open when the mill is open and completely free.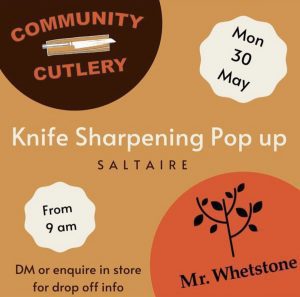 Mr Whetstone on Victoria Road in Shipley – excellent place for plastic free shopping and refills – are hosting Community Cutlery for a knife sharpening session on Monday 30th May for any knives that need a bit of TLC. You cab book in to guarantee your slot and all the full details are available HERE.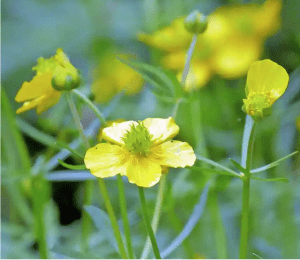 I stopped the other day to admire a field full of buttercups – I know in a garden they are a pernicious weed but in a field, growing wild and they were stunning. Rummaging as I do through The Guardian for interesting snippets, I came across this article which says it all. Where the bluebell is the elegant flower telling you early summer has begun, the buttercup is a full on bohemian, flopping and shining in the field – and letting you know if you like butter or not!
We hope you enjoyed the Pocket Book for the 20th May. Have a fabulous weekend and don't forget if you find anything interesting to share to next weeks Pocket Book, or just want to say hello, get in touch in the box below or email us direct at hello@thestitchsociety.com
Share your comments, feedback and ideas here...