Welcome to the Pocket Book for the 20th November.
Gathered together inspiring things to read, makers whose work we adore, seasonal recipes and creative projects to try.
Continuing our theme of looking at other makers, this week is jewellery … the GNCCF starts tomorrow and is the perfect place to browse a little for Christmas shopping or maybe a treat for yourself. The jewellery makers below are favourites of mine – all different but all wonderful. Many makers are really struggling at the moment and the GNCCF and The Digital Craft Festival next weekend are an ideal opportunity to support creativity, bag a unique piece and have something that can be enjoyed for many years. Most featured will have an online shop and are often able to help with personal shopping for the perfect gift….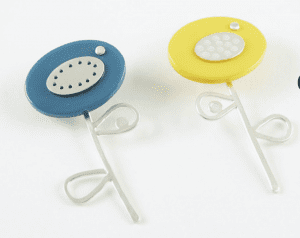 Charlotte's combination of materials is unique with her use of vintage plastics and vintage glass to add colour. She also uses Victorian boot buttons and vintage leather stamping tools used to stamp into the silver. She loves sourcing old tools and re-purposing tools to use in her work. I love her work as she champions the brooch, always a  favourite of mine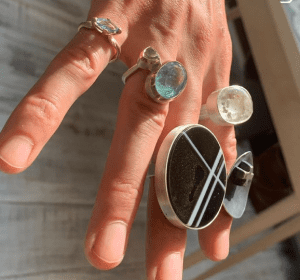 Jane's work is amazing and her colour combinations are always stunning. Immensely wearable, her pendants, rings and bangles are timeless and striking. She is also amazing at finding the perfect colour combination for the wearer. I have one of her pendants and wear it so often.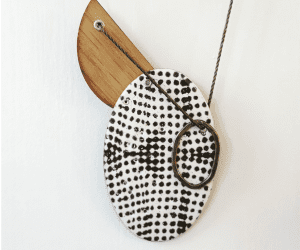 Alys enjoys composing pieces with mismatched irregular shapes, pairing elements that balance and complement each other, finding a tension between two places. Her work is stark and striking with a contemporary edge – simplicity at its very best.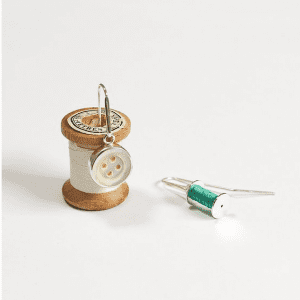 Joanna's work is inspired by her vintage collections and she is drawn to the thought of reloving and reviving something and bringing an old or found object back to life through her jewellery. Her button earrings and needle necklaces are a dressmakers absolute dream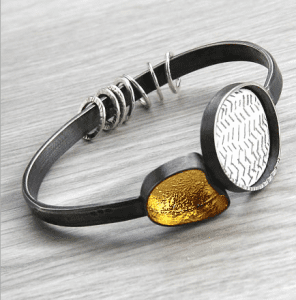 Rachel fell in love with her enamelling technique when ce was researching different ways to enamel. She has always loved sketching and doodling, with pencil being her favourite medium and found this was the perfect way to explore drawing, making each piece a work of art in its own right.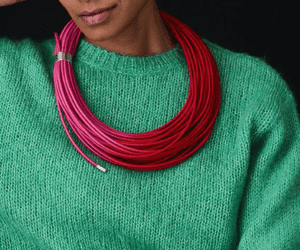 Gilly is a contemporary jewellery designer based in the remote Highland village of Plockton on the West Coast of Scotland. Gilly has been creating her bold sterling silver and elastic jewellery since 1997, selling and exhibiting in galleries, museums and fairs all over the world. The colours are amazing and all are hand dyed, truly striking and on my list for sure.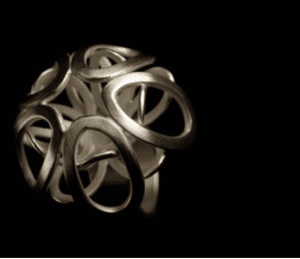 The intricate designs of Ashi's handmade jewellery are rooted in the architecture of India's stunning monuments and palaces. The geometry of the structural arches, the complex details of the ceilings, and the decorative panels in the windows and screens, all provide inspiration for her work. The organic forms that Ashi uses are so tactile that you want to fell them and her pearl rings and earrings are so special.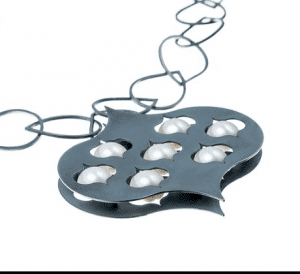 Caroline draws on her extensive travel and life experiences in India to explore a fascination with geometry, symmetry and repetition. Her work is so simple and so distinctive, to meet Caroline, you understand her work, her soul goes into these pieces – so wonderful.
Above all, the jewellery makers listed above are some of the loveliest makers who make the most amazing jewellery, each in their own special way. If you want something made with love, care and heart, then you will find it in their work.
We hope you enjoyed our Pocket Book for the 20th November.
We hope you stay safe during lockdown and enjoy browsing through our suggestions. Next week will feature ceramics and gifts so please let us know if there is anyone whose work you love and would like to give a mention.
As always, don't forget if you find anything interesting to share to next weeks Pocket Book, or just want to say hello, get in touch in the box below or email us direct at hello@thestitchsociety.com.