Welcome to the Pocket Book for the 21st May.
Welcome to the Pocket Book for the 21st May where we look at workshops, Chintz, parasols and swimwear, in the vain hope that at some point the sun may shine this summer!  Hope you enjoy …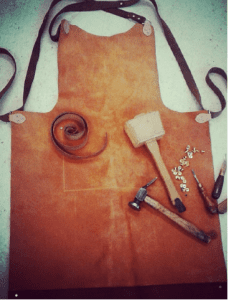 Our first workshop in our new space kicks off next weekend on the 29th May with Cathy Edwards from ce leathergoods based in Hebden Bridge, showing how to make a stunning leather apron. I did Cathy's workshop a few years ago and gifted the apron to my dad who wears it for gardening – probably the smartest gardener in Devon I think. There are only a couple of spaces left but if you would like to have a go with the wonderful Cathy click HERE to book your place.
The Fashion and Textile Museum in London is reopening with a new exhibition called Chintz: Cotton in Bloom,  a collection with an extraordinary story, spanning hundreds of years and thousands of miles.The exhibition showcases some 150 examples of this treasured textile, originating from all around the world; from mittens to wall hangings and from extravagant 18th-century sun hats to stylish mourning dresses.If you can't make it to London, the museum has a fantastic source of online talks which can be viewed at you convenience. Their Events page is well worth a look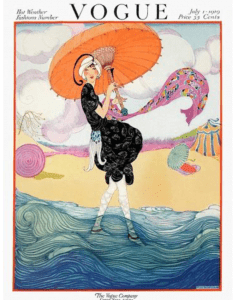 I stumbled across the Folkwear website a few years ago and intrigued by their patterns based on historical garments – it's an amazing resource. Their blog has loads of interesting articles including this one on the History of the Parasol which lead to looking at how to make an umbrella. I have always been fascinated by this as it seems so simple yet so complicated. Have a read and let me know if you have a go at making one!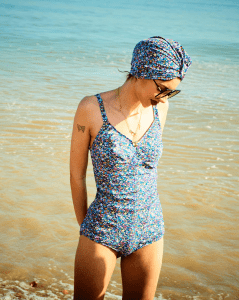 Pearl Lowe's amazing vintage inspired swimwear made in Liberty print fabric was featured in The Guardian fashion pages this week and inspired me to see if I would be able to make one myself. As usual, Etsy came up trumps with this vintage pattern which I may just have a go at for the summer. With holidaying in the UK de rigour this summer – the more covered up the less rain can get in!
We hope you have enjoyed the Pocket Book for the 21st May and don't forget if you find anything interesting to share to next weeks Pocket Book, or just want to say hello, get in touch in the box below or email us direct at hello@thestitchsociety.com.
Share your comments, feedback and ideas here...