Welcome to the Pocket Book from The Stitch Society for the 22nd November, packed full of warming ideas for the chilly days of November.
All cooking is a form of chemistry. But baking in particular depends on a combination of accurate measurement and correct methodology to avoid soggy bottoms or burnt buns.
The Curious Cases of Rutherford and Fry on BBC Radio 4 present  The Curious Cake-Off, where materials scientist Mark Miodownik has some top tips for creating the perfect sponge…
As the weather has got decidedly chilly this week, The Guardian have a round up of the best winter coats available. Click HERE for ideas to keep you stylishly warm this winter.
I love the reading my tea leaves blog  by Erin Boyle. It's full of gentle ideas and stunning images. This post shows how to make a simple cord out of cotton clothesline and how to put it to work as a moveable holder for a roll of craft paper. This project takes straightforward finger knitting and turns it into something that's equal parts beautiful and useful. This cording technique can be used for all kinds of projects, and the best part is, it can go wherever you need it.
For materials and step-by-step instructions click HERE.
Sample Sale & Open Studio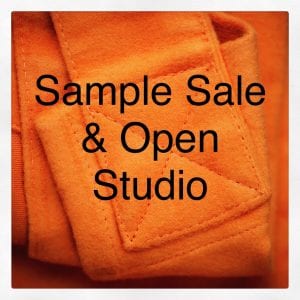 Finally, don't forget our Sample Sale and Open Studio on Saturday 30th November and Sunday 1 December in the Piazza Offices, Salts Mill, Saltaire. There is a lot going on in Saltaire that weekend so it's perfect for a day out. Start your day at Edward Street Bakery, browse at the Vintage Fair in Victoria Hall, stop off at Nordish or the Salts Diner for a spot of lunch, meander down to our Sample Sale and then finally a bit of Christmas shopping at the fabulous RAD Studio on Victoria Road. Plus on Sunday 1st December it's the Saltaire Christmas Light Switch On. How many reasons do you need for a fabulous trip out?
We hope you enjoyed the Pocket Book for the 22nd November, we will be back next week with more snippets. Don't forget to let us know if there is anything you would like included next week.