Welcome to the Pocket Book for the 24th June.
This week we look at the Radical Craft Makers Fair at Harewood House, the work of printmaker Emma Hardaker and Eternally Yours, caring for clothes over the centuries at Somerset House in London.
Enjoy …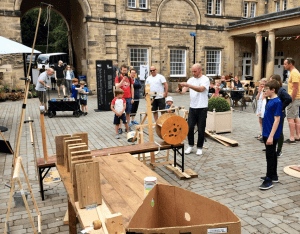 We mentioned the Makers Fair at Harewood House a couple of weeks ago and we will be taking part this year. As part of Radical Acts: Why Craft Matters on Saturday 2 July 10am–8pm and Sunday 3 July 10am–6pm Harewood have teamed up with Hole & Corner magazine for a weekend celebrating all things craft.
The event will take place in and around The Courtyard on Saturday  with workshops and demonstrations, live music, talks, craft stalls with plenty of local food and drink. If you pop along, come and say hello.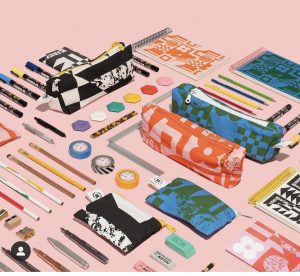 We have recently had the pleasure of working with Emma Hardaker, anArtist, Designer & Maker who is known for her punchy palettes and bold, abstract style and her passion for working in the public realm.
Working from Wharf Street Studios in Shipley, she designed beautifully striking geometric designs which we have been making into purses and pencil cases which are now available at Fred Aldous in Manchester and online.
We hope you enjoyed the short but sweet Pocket Book for the 24th June. Have a great weekend and don't forget if you find anything interesting to share to next weeks Pocket Book, or just want to say hello, get in touch in the box below or email us direct at hello@thestitchsociety.com