Welcome the our Pocket Book for this week, September 27th, full of little bits of info to keep you amused over the weekend.
Please accept our apologies for the missed post last week and if anyone received the previous weeks post three times. We have been experiencing a few wobbles with an update on our website.
Thank you for your patience and please enjoy the snippets below….
We will be exhibiting at the Great Northern Contemporary Craft Fair again in Manchester from Friday 10th October to Sunday 12th October. Now in its 12th year, the Great Northern Contemporary Craft Fair is the North's largest and most established annual celebration of contemporary craft.
Set in a Grade 2 Victorian market building in the heart of Manchester on Deansgate, this award-winning event hosts over 150 of the UK's finest designer-makers and craft artists. All exhibitors taking part have been specially selected for their excellence, with jewellery, interior and fashion textiles, ceramics, glass, furniture, print and more.
Meet and talk to the makers and discover the inspiration and stories behind their work. This is an opportunity to buy direct from the artists or to commission your own unique, handmade piece. The show is in the Upper Campfield Market Hall, Barton Street, Manchester, M3 4FN
Click HERE to buy tickets and see the competition below from Cheshire Life.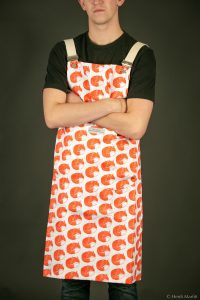 I have been badgering Ben from The Owlery Prints for a good two years now to work with us to make some lovely aprons. This summer, the fabric appeared and we made up a few aprons as samples. The results speak for themselves as his prints work so well with our designs. The aprons will be available to order on both The Stitch Society and The Owlery websites from the middle of next month and can be seen in the flesh at the Great Northern Contemporary Craft Fair (see above).
As a songwriter, Gary Barlow has topped the British singles chart more than a dozen times. He has sold more than 50 million records around the world, as a member of Take That and a solo artist. He has experienced highs and lows in his career. See the nine Gary facts HERE.
For those whose children have flown the nest to Uni in the last few weeks, here are a few dirt cheap dinners that will cost you £1 a portion, or less. Send them on to your newly independents to stretch their student budgets. See the recipes 
HERE.
As Facebook experiments with AI-powered styling program, Maghan McDowell looks at how Fashion++ recommends improvements to a person's outfit. While purely academic, the research could eventually be used by a digital assistant to style people. Read more HERE.
Lyn Harris founder of Perfumer H, the boutique brand, shop and working laboratory she runs in London's Marylebone neighbourhood. Harris is one of the most well-known names in the world of fragrance; she created her new label after leaving previous venture Miller Harris (my favourite perfume is their L'Eau Magnetique). Having studied the art of creating fragrances in her twenties under the tutelage of renowned perfumer Monique Schlienge, Harris moved to Grasse, spending five years at the prestigious French fragrance manufacturer Robertet. Listen to the podcast  HERE.
Monocle Radiowhich is the source for the Lynn Harris interview has an amazing range of topics to download and listen to at your leisure.
Experience an arty weekend at Manchester's Great Northern Contemporary Craft Fair with a theatre show and night's stay in one of the city's coolest hotels. Click HERE for competition details.
We hope you enjoyed the Pocket Book for this week, September 27th. Have a good weekend.