Welcome to the Pocket Book for the 2nd July.
Welcome to the Pocket Book for the 2nd July.  This week is all about craft.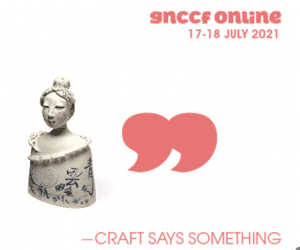 The Great Northern Contemporary Craft Fair has an online show from Friday 16th July. The GNCCF is one of the best shows in the UK and provides an opportunity to buy handmade work online from over 120 specially selected makers.
Ahead of the fair weekend, you can preview the line-up of exhibitors taking part on their website and the shop windows will go live 9am Saturday 17th July. For an invite to the Preview Evening on Friday 16 July, to see work before the general public, you can sign up to the mailing here to receive an invitation.
The GNCCF is on elf our favourite shows to do and you can see some new work from us on our shop there …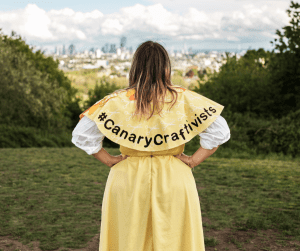 Craft is well known for the beneficial effects for wellbeing but there is a growing movement to use craft as a tool for change. One of the key people in this movement is Sarah Corbett of the Craftivist Collective. This summer they are encouraging "gentle protest" with a number of projects on their website in yellow to make and send to your MP, the PM, whoever you think might benefit from a gentle nudge. You can find out more on their website and social media pages.
Finally, as our world starts to open back up and return to our new normality, the Crafts Council have put together a list of exhibition to see this summer. Who doesn't want to get out there and be inspired – it seems to have been so long! There's a whole host of amazing work to go and see so hopefully there will be something that catches your eye, inspires you creativity or just makes you smile. For us, we will be at the Craft Festival in Bovey Tracy, Devon this September, the GNCCF at Victoria Baths, Manchester in October and will be running a Darning Workshop at The Good Life's Summer Camp on 31st July. We hope to see you sometime soon…
We hope you have enjoyed the Pocket Book for the 2nd July and don't forget if you find anything interesting to share to next weeks Pocket Book, or just want to say hello, get in touch in the box below or email us direct at hello@thestitchsociety.com.
Share your comments, feedback and ideas here...