Welcome to the Pocket Book for the 5th December.
Where we gather together inspiring things to read, makers whose work we adore, seasonal recipes and creative projects to try.
This week is a short one and a late one as we have been moving into our new home in Salts Mill. We are now based in what was Titus Salts living quarters – by the look of the layout I think we may be in the kitchen/pantry area.
We are open until Christmas from 10am until 4pm Wednesdays through Sundays. As well as our aprons we also have the collaborations we have done with other makers and artists on show and plan to expand this area.
I have been a huge fan of Nigel Slater for a long time and love his recipes. I caught this on Radio 4 a couple of weeks ago as part of the Today programme's moments of light that people find in their days. Here, Nigel Slater talks about his daily crumpet ritual and it is lovely to listen to – I challenge you to listen and not go out and buy crumpets afterwards!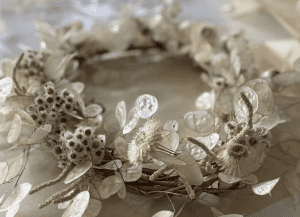 From Britain with Love have a great blog with loads of good ideas and the promote British made goods and businesses (as the name suggests!). In this post from October, Laura has some great ideas for dried, foraged wreaths to try like this silver Honesty wreath. If you have never had a go at making your own Christmas wreath – these may give you some ideas to try.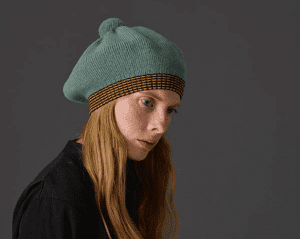 Finally, this piece from Jo Gordon, who does amazing knitwear, caught my eye. I love this time of year for scarves, gloves and, most of all, a good knitted hat. Even better if it's a beret or, as described here, a Tammy. Jo gives the history of this fabulous headwear – who knew that a floppy beret had so much history behind it!
We hope you enjoyed our Pocket Book for the 5th December.
As always, don't forget if you find anything interesting to share to next weeks Pocket Book, or just want to say hello, get in touch in the box below or email us direct at hello@thestitchsociety.com.