Hello and welcome to The Stitch Society Pocket Book for November 8th, full of snippets and ideas to lighten the dark evenings as winter rolls in.
Known for their quality clothing and beautiful use of textiles, the clothing and lifestyle brand, TOAST,
has commissioned a group of artists in collaboration with Kettle's Yard, Cambridge, to re-work worn garments and fabrics, turning them into something unique and unexpected. The display – on show 30th October to 3rd November – aims to promote the idea that clothes can have a life beyond their first wearer; creatively supporting a lower carbon lifestyle.
The participating artists are: Abigail Booth from (Forest & Found), Alice Fox, Richard McVetis, Hannah Robson and Sophie Rowley.They were invited to re-new old TOAST garments and waste materials – from indigo-dyed cloth to hand-woven ikats.
Click HERE for more information.
Something to while away the winter evenings, make a few of these lovely dishcloths either for yourself or to give as presents. Designed by Purl Bee, they are perfect for all household chores. Click HERE for the instructions and let u know how you get on.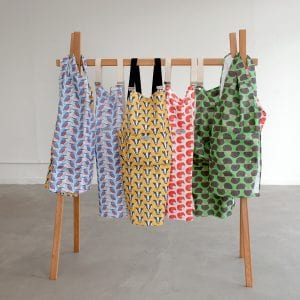 After 2 years of nagging and pleading, we have finally been working with The Owlery Prints on a new range of aprons which are now available.
Based in Sheffield, Benjamin is a product based printmaker and artist. He creates whimsical textiles, ceramics, and paper products and prints. More recently Benjamin is working on a series of fine art prints. The aprons will be available on our website shortly but are all on The Owlery's Etsy shop along with his complete ranges.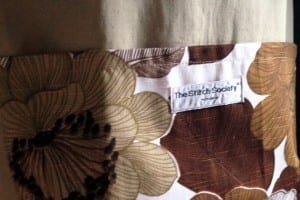 Don't forget that we will be having an Open Studio and Sample Sale on the weekend of the 30th November and 1st December. There will be many bargains to be had … more details to follow …
We hope you enjoyed the Pocket Book for the 8th November. Don't forget to let us know if there is anything you would like included next week.