The Stitch Society 
Artisan Workwear.
Simple. Stylish. Durable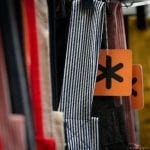 At The Stitch Society we make Artisan Workwear.
Carefully designed, well tested and with a growing reputation for quality and customer service, we aim to delight you with all our products.  We have made it our mission to make the most comfortable, durable workwear in the most hardwearing fabrics, with stunning design details, so that you look fantastic whilst doing what you do best – being creative. 
Whether you work with clay, silver, wood or textiles, we try to make workwear to suit your needs.
Sourcing all our fabrics in the UK, we take great pride in making our artisan workwear in the best fabrics we can find, such as smart denims, soft cotton moleskins, hardwearing cotton twills and gently draping linens, all chosen for their durability and comfort, making our workwear both smart and practical.
All  The Stitch Society Artisan Workwear is thoughtfully designed with your comfort in mind. Our broad shoulder straps and a huge front pocket, designed to comfortable hold all your bits and bobs, make our aprons the most practical on the market.
Handmade at The Stitch Society HQ in Yorkshire, we are so proud of the quality of our artisan workwear that each piece comes with a 10 year guarantee covering all our workmanship and any small fabric repairs, all carried out free of charge.
We are lovers of great packaging and the "oooo" factor when you receive something beautifully packaged, each of our aprons comes wrapped in orange ribbon and is packed with the same love and attention to detail that we give to everything we do.
As a fan of collaborations, we work with other textile artists to produce limited edition ranges of our workwear with unusual design details such as printed pockets or amazing straps. We love working with other makers and relish the opportunity to design something special for our customers.
We always enjoy hearing from our customers so please share your Stitch Society apron experiences with us on Facebook, Instagram or Twitter.