After a mad month of May, summer is finally here at The Stitch Society and we have been enjoying the wonderful weather in late May and early June.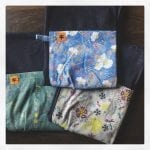 We have a few weeks rest and planning before we have more shows. We will be attending the RHS show at Tatton Park for the first time this year. From the 18th to the 22nd of July we will be showing our aprons and will be launching our apron collaboration with Helen Russell Creations, who we have worked with to create a wonderful gardening apron. There will of course be all our usual loveliness with Martha, Erin, Grace and Susie all in attendance.
Swiftly on the heels of the RHS show will be the first GNCCF in Sheffield on the 27th to the 29th of July in the Millenium Gallery. I have always had a soft spot for Sheffield, an amazingly creative city and the home of Folksy, it is always inspirational to visit and has a huge number of talented makers working there. The show brings together  75 specially selected designer-makers from across the UK. GNCCF Sheffield is a partnership with Making Ways,  an ambitious three-year project that will demonstrate, celebrate and develop exceptional contemporary visual art produced in Sheffield. Making Ways aims to stimulate and support the development of artistic talent building the profile of the artistic community and relationships with business and industry.
The Sheffield event follows the the first GNCCF in Newcastle on the 23rd and 24th of June. A key event in the opening weekend of the Great Exhibition of the North it features over 50 selected designer-makers from the North and is produced in partnership with The Biscuit Factory.
We hope you will be able to join us at one of the shows over the summer so please come and say hello, as we love to meet our customers at shows and hear what our aprons are getting up to.
We are also delighted to announce that we have been shortlisted for another local business award! The award dinner is on the 29th June so we will let you know how we get on. It's always such a delight to be nominated for the KABA awards which celebrates the business successes in the Aire Valley and Keighley area.